Welcome to aleno! Here we'll show you in 5 steps how to replace your reservation book and make the most of aleno in your restaurant.
Step 1 - Reserve Online
First, we'll show you the online reservation widget and how it works. You can customise many of the widget's settings on your own, from the color scheme to the data you want to retrieve during online reservations. Next, we show you an example of how easy it is for your guests to make a reservation - even if the restaurant is fully booked or if they speak another language. The more people book online, the fewer calls and emails you receive and the more time you save.
Step 2 - Enter Reservations Manually
Most guests love to use the online widget, but some still prefer to make reservations by email or phone. In the following video we'll show you how to enter reservations manually in aleno.
Find more videos and instructions in aleno in the Information Center via the i-Button:


Step 3 - Customize aleno
You can easily customize aleno to suit your restaurant's needs, e.g. by setting up shifts for lunch and dinner, weekdays and weekends and optimizing them according to your needs from the number of seats, the contingent for online reservations to variable capacity control and retention times to promote double-seating. Of course, you can also customize aleno to suit your style, from email templates for confirmation, reminder and cancellation to the design of the reservation widget.
To do this, go to the Settings menu: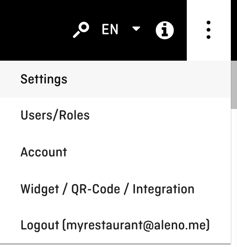 The easiest way to go through the settings is from the top to the bottom. There you also find explanations of all the settings. Feel free to contact us via the information center in aleno or email us for further questions:

Step 4 - Training & Transfer of Reservations
Train your employees before going live. The video tutorials in the aleno infomartion center are the easiest way to familiarize your employees with aleno. We recommend to fix one or two dates to try out the various features, like entering and moving reservations, creating shifts etc., and to take over reservations from your reservation book or previous system into aleno.
Step 5 - Display Reservation Widget Online
All you have to do is put the reservation widget online - on your Website, Google and Facebook page. The more channels you use, the more reservations you receive online, the more time you save and the more guests you host. Integrate the widget into various channels and make more of your restaurant. See how easy it is to display the widget online in the following instructions: Distribute your widget online