In this article when explain how we back-up your data and how you can access these data, e.g. in case of disruptions or delays in the main aleno system.
Why do I need a backup system?
In the dynamic world of hospitality, every second counts, and despite our best efforts, technology can sometimes hiccup. That is why we run our own Backup System. It's our safety net for those rare instances when the main aleno system experiences disruptions or delays. Your data won't be lost and remain accessible.
The Backup System is hosted in its own environment, independent of the infrastructure and any disruptions of the main aleno system. It allows you to view and download your shift data for a given day, directly from a backup server. The data is always current to within a few minutes.
How can I access my aleno data, i.e. reservations?

You can access your Backup here: backup.aleno.me
1. Login with you aleno mytools user credentials
Use the e-mail-address and password of your aleno account to login to the backup space.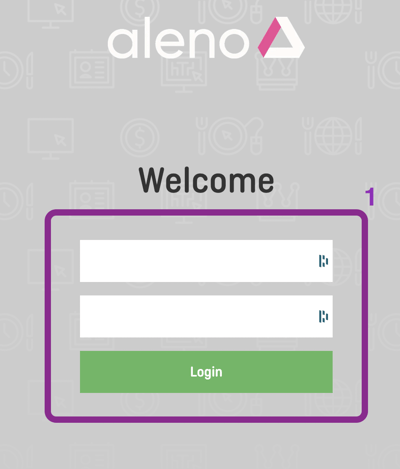 2. From the first dropdown pick the restaurant you're interested in.
All restaurants the user can access are visible. But only the ones where they are Admin or Account Owner can be accessed.

3. From the next dropdown pick the shift.
All shifts from the picked restaurant are shown that are available for today.

4. Looker dashboard with crucial information will be generated.

The dashboard gives you an overview over all reservations in the shift as well as detailed information for each reservation, i.e. name, reservation time, table number, guest tags, coments etc.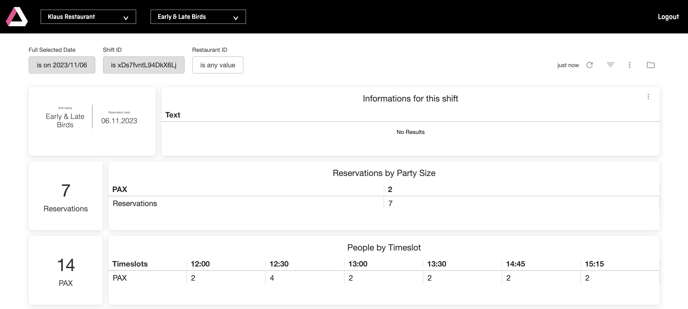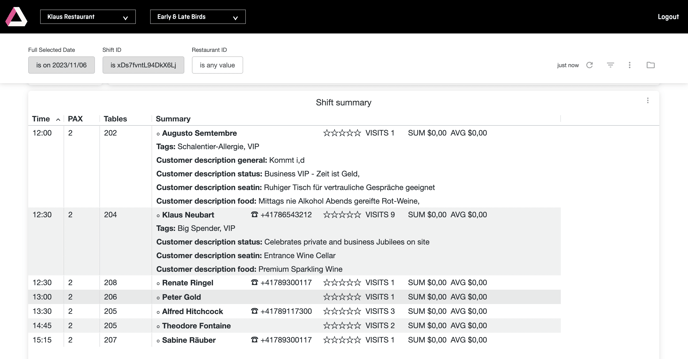 4. Download the dashboard
You can easily download the dashboard. Click on the three vertical dots and choose the option "Download" to save the data of the shift to your device.


Done: You have your shift data at hand. And even for the worst case that the aleno system is down, your restaurant and, therefore, you, are not.
Tip:
We recommend to keep the backup URL close at hand by bookmarking the following link:
backup.aleno.me
. This ensures you're prepared, even if you never have to use it.