Using the widget, guests can easily make online reservations in your restaurant. The widget can be integrated on your website, Google, Facebook, in a newsletter, and anywhere else you may need.
Different ways to intergrate the aleno Widget on your website
To integrate the aleno widget on your website, you need your individual link. You can find this link in aleno under Menu --> Settings --> Widget Preview/Integration:
Pic 1


The aleno widget can be integrated on your website in different ways.
Simple link (open widget in new tab): Under Widget Preview (picture 1) you will find the link that you can integrate on any website (e.g. GoogleMyBusiness, Facebook, own website) which opens your reservation widget in a new tab.
Embed widget in website (Modal): To embed the widget on your website, two steps are necessary. In this variant, aleno will not be visible in the URL address as the widget window will appear integrated on your website.
Under Widget Installation (Picture 2) you can find the JavaScript and CSS code. Copy the JavaScript code (1) and the CSS code (2) and insert them both on your website in the line under <head>.
Now insert the widget link (3) on your website as described above.
Pic 2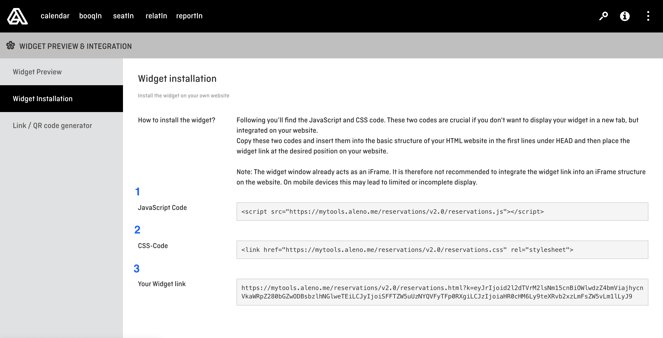 Please note: The widget window already acts as iFrame. It is therefore not recommended to integrate the widget link into iFrame structure on the website. On mobile devices, this can lead to limited or incomplete display.
Configure widget settings
In the section Link / QR Code Generator (Picture 3) you can convert your widget link into a QR Code and extend it through the available checkboxes. It is also possible in this section to control the display in the widget even more precisely if required.
Pic 3