In this article we show you how to integrate your aleno restaurant to Mailchimp to simplify sending promotional emails.
Streamline your marketing efforts by seamlessly synchronizing all the contact information of your guests, directly from your aleno restaurant to Mailchimp.
With this integration, you can effortlessly create and launch effective email marketing campaigns to promote your business and engage with your customers on a regular basis.
Take advantage of the real-time syncing feature to ensure that your guest contact information is always up-to-date and accurate in aleno and mailchimp, allowing you to deliver targeted and personalized promotional emails that resonate with your audience.
By leveraging the power of aleno and Mailchimp, you can maximize your marketing potential and drive better results for your restaurant.
All technical questions will be answered after the set-up guide.
A step-by-step guide to install and activate guest data synchronization
Prerequisite
Before proceeding, please make sure you have completed the following steps:
Create a Mailchimp account. If you don't have one, you can easily create a free account on their website.
Create an audience. This will be the group to which we will synchronize all of your customers. Here is a link on how to Create a Mailchimp Audience: Create a Mailchimp Audience
By completing these prerequisites, you will be ready to proceed with the next steps.
Installation
1. Log in to the aleno Marketplace (https://marketplace.aleno.me/

2. Select the Mailchimp app from the list of available applications.
You can find it under the Marketing category.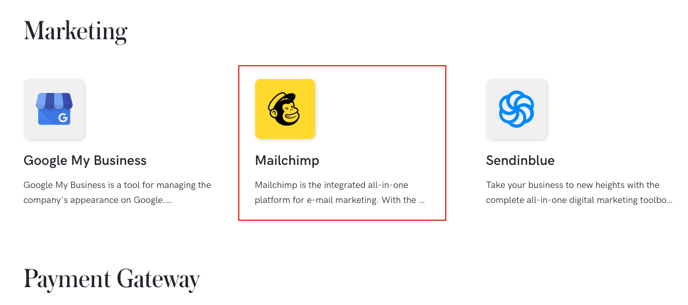 3. Click the ADD TO ALENO button to start the installation process.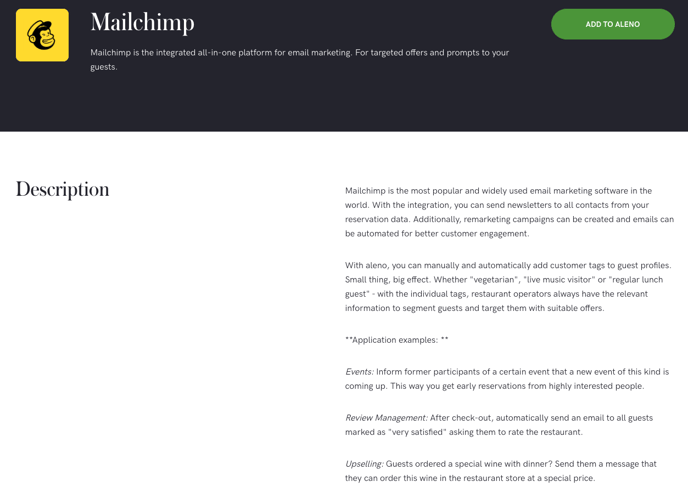 4. Select the restaurant for which you would like to install Mailchimp integration.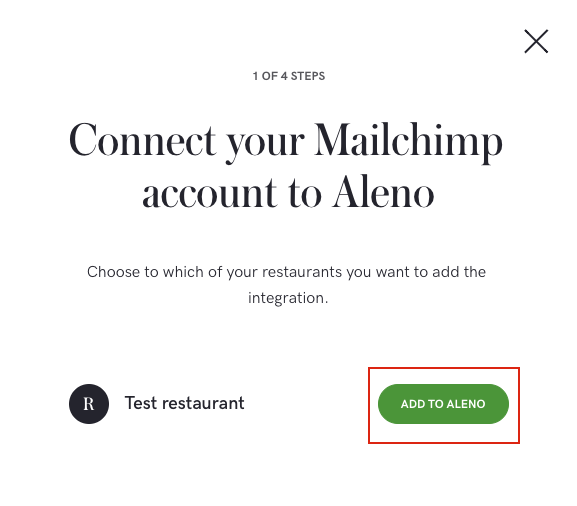 5. Agree to our Terms & Conditions by checking the box then click "Next" to proceed.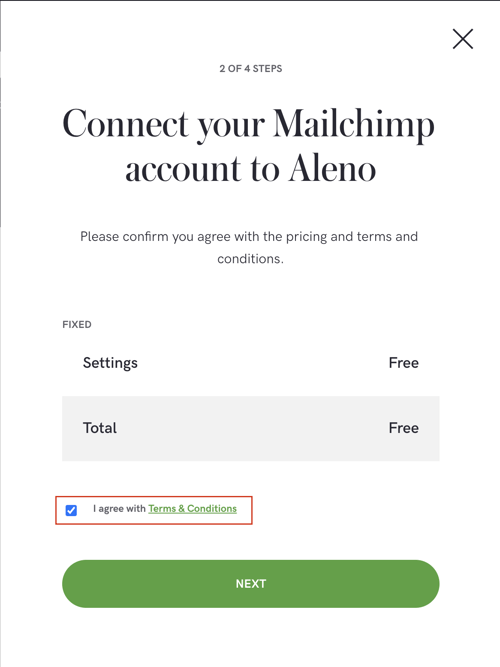 6. Click AUTHORIZE MAILCHIMP button to open a popup window where you will be able to login to your Mailchimp account.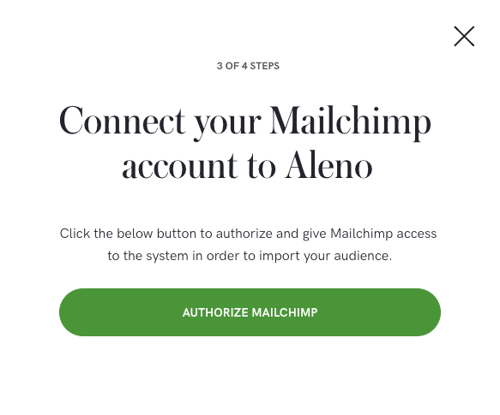 7. To log in to your Mailchimp account, enter your username (usually your email) and password.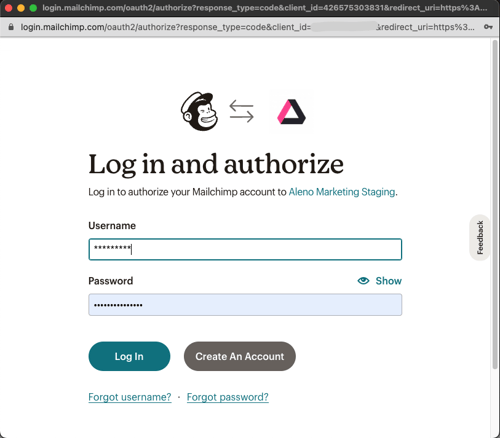 8. Click ALLOW to authorize aleno Marketing application to access your account.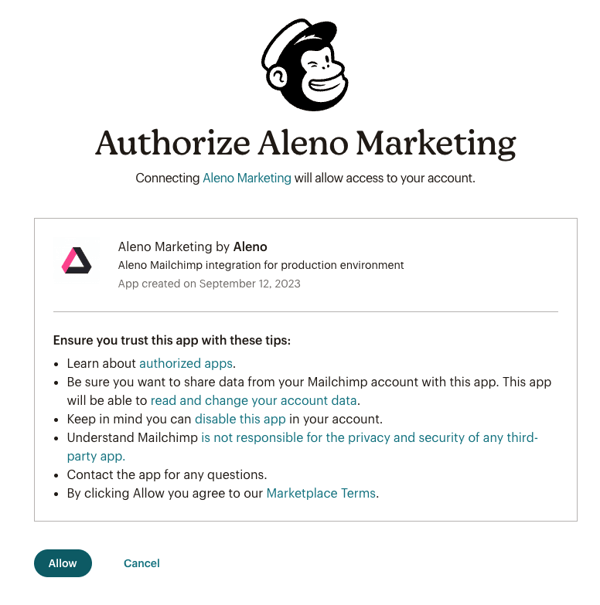 9. Select your existing audience to which we will synchronize all your guest contacts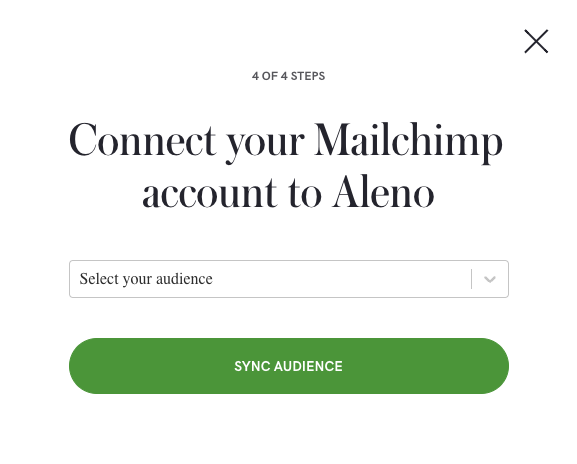 10. You're done.
When you connect your aleno account with Mailchimp, all of your contacts, including their customer tags, will be seamlessly imported into your Mailchimp account. This process of syncing and transferring contacts may take a few hours to complete, depending on the number of customers you have. It is important to note that the duration can vary, ranging from a minimum of 15 minutes to a maximum of a few hours.
In case you have multiple aleno restaurants that have not been added yet, you can easily repeat steps 1-10 to ensure all your contacts are included.
Once the import is finished, you can log in to your Mailchimp account and take advantage of the convenient and efficient features to start sending engaging marketing emails to your contacts.
Technical details
Which guest data do we synchronize from aleno to Mailchimp?
Only data from guests who have signed up for the restaurant newsletter and have a valid email address will be synchronized. The following data is synchronized:
First name
Last name
Email
Phone number
Street & house number
Postal code
City
Country
Guest tags (e.g. VIP etc)
Which guest data do we synchronize from Mailchimp to aleno?
When a guest unsubscribes via a link in an email or manually in Mailchimp, the guest is also unsubscribed from the newsletter in aleno.
What happens during the first data synchronization?
Immediate activation: the synchronization process starts immediately after the successful activation of the Mailchimp integration.
Duration of the synchronization: the duration depends on the number of guest profiles. Up to 50 guest profiles are synchronized per second.
Subscription status preservation: if a profile already exists for a guest in the specified Mailchimp audience, the subscription status will not be overwritten if it differs from the information in aleno.
Failed synchronizations: If the initial synchronization is not completed, the affected guest profiles will be updated subsequently when further changes or new profiles are synchronized. Accurate and complete synchronization is thus guaranteed over time.
What happens after the first synchronization?
The synchronization is continuous and in real time. All changes to existing aleno guest profiles will be immediately reflected in Mailchimp, e.g. updates to customer information such as name, email, phone number, address and guest tags.
When a new guest profile is created in aleno and the newsletter flag is enabled, it will be automatically added to Mailchimp within a few seconds.
In restaurant groups with a shared guest database, guest profiles are also tagged with every restaurant where they have made at least one reservation. This allows restaurant groups to continue to target guests of single outlets as needed.