Good news: you can use Google My Business for free!
Restaurants with a free profile on Google My Business appear in Google search BEFORE the search results of paid portals!
If you click on a restaurant, the "Google Knowledge Graph" provides all relevant information, e.g. map of the area, contact details, opening hours, ratings etc. Google thus directs Internet users past the chargeable portals to the restaurant - without fixed costs or agency fees.
Restaurants can enter a link to their reservation system in Google My Business, saving time by taking reservations online instead of over the phone. This means restaurants can save a lot of money by displaying the link directly on Google to their website or reservation system.
And here's how it works:
Create a Google My Business profile
Navigate to «Info» in your profile
Now enter under«URL for reservations» the direct link to your aleno system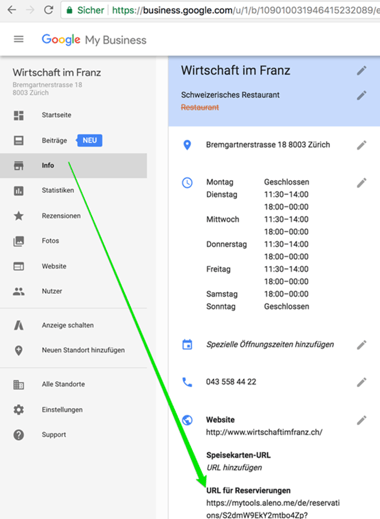 The «URL for reservations» is composed as follows:
Your main domain (e.g. "https://wirtschaftimfranz.ch")
Insert the following parameter "?alenoWidget=open&alenoWidgetKey=".
Then the widget link key - you can find this key as a part of your widget link in the settings configuration under "Widget Preview".
The widget link:

The widget link key:


For this to work properly, the CSS code and the Java Script code must be included in the head of your website. You can find detailed instructions here.

With these few measures you can increase your online visibility with minimal marketing effort and at the same time reduce the effort for reservations!